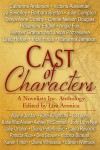 A short story from CAST OF CHARACTERS
ISBN: 978-1-936558-50-6 * eISBN: 978-1-936558-51-3
Fiction Book Studio
Publication: April 3, 2012
The clock struck nine P.M., the note sharp as a bugle call before it disappeared into the West Virginia mountains. I glanced around, distracted from climbing stairs in stilettos rather than my beloved clogs.
The tower still stretched toward the starlit sky above the hotel's stone bulk. The lake rippled silently over the ancient slag pit, where a century's coal mining refuse was buried with my home town's lost dreams.
But more condos hid among the trees along the hillsides than had been here ten years ago. Broderick, the hotel owner, could always find new ways to pad his wallet.
Slimy lizard.
I moved on toward the banquet hall, my precious necklace hidden safely against my heart.
In and out and make it fast, that was my plan. Visit my high school's ten year reunion just long enough for one dance with somebody, anybody other than Richard. Then leave, having wiped out all memories of that one perfect night at senior prom.
Yeah, right.
The clock struck again, more urgently. I craned my neck for one last glimpse–and nearly fell sideways.
It was an old-fashioned tower clock, perfect for a hotel resembling a medieval castle. A king and his warriors paraded in a circle, while his drummer marked time on the bell. I'd blown kisses to that gallant monarch a million times while growing up.
So why was there a queen on his arm now, looking as if she'd always been there? I reached the banquet hall's mezzanine, still trying to remember all the clock's figures. Here, a gaudy disco ball's sparkling reflections slipped away into the shadows.
"Looking for another dishwashing job, Cindy?"
I drew myself up to face down Abner Little's arrogant smirk. He guarded the reunion's reception table, perched on its edge like a hungry vulture.
"Hah! You can't afford a CIA-trained chef. I came for the ten year reunion."
He glowered. "Reservation?"
"Don't need one. Remember? Members of the graduating class just need to show up." My foot reached for the first step down to the boisterous ballroom.
"What about your date? You need a ticket for your boyfriend."
I hesitated, trapped by too many memories of the last man anybody had called that.
Abner, damn him, saw my weakness and pounced. "Or did you lose this one, too? Went off to the big city but couldn't hang on to a man." He brayed in satisfaction.
Memories slammed into me and I flinched.
"The young lady is welcome here at any time." A large hand grabbed Abner's shoulder and wrenched him away. My old nemesis stumbled into place at his master's heels, transformed from an unpredictable menace to a lurking shadow.
"Good evening, sir." I bowed formally, wary as an apprentice in a butcher shop. Clad in his usual pristine tuxedo, the hotel owner's angular frame dominated the narrow stone balcony. His deep-set eyes caught more secrets than any surveillance camera and his long, crooked nose proclaimed victories in brutal fights.
"Will you be staying with us after the dance?" Broderick's voice was more polite than his roar the last time we'd met.
"Sorry, but I have to be back at work." My face softened into a smile. An untraceable car plus two Mafia hit men to guard my back… Best payment ever for catering a wedding, even if I had to leave at midnight to return the car.
"Pity. The hotel provides a free bed for every graduate."
The way it had paid for my father's grave?
"No, thanks." I flung my head back and glared at him. My necklace slipped free from my neckline and fell forward, flashing crimson and gold.
Broderick's eyes blazed. Suddenly a great paw, edged by long, sharp claws, lunged toward my throat. I choked and tried to pull away but couldn't move.
A man yanked me into his arms. I staggered and clung to him, my only stability. The clean scent of woodlands, long gone yet all too familiar, teased my senses.
"Leave her alone, Broderick. Your quarrel is with me."
That voice…
My head snapped around and I stared at a stranger. Or was he?
"Richard?" The name ripped my throat like forgotten dreams. "But he's gone forever."
"You know better than that, love. So does our host."
Love? Calling someone honey or sugar meant little in these mountains. But love? That was special.