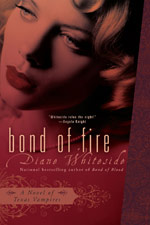 Berkley Trade
ISBN: 978-0425217382
Diane Whiteside's Bond of Blood was hailed as a sensual new take on the vampire genre. Now "the master of erotic prose" (Booklist) turns up the Texas heat in a return to an erotic landscape of fiery seduction…
Ever since they saw each other across a glittering ballroom centuries ago, Jean-Marie St. Just and Hélène d'Agelet have loved each other. Yet no matter how passionate their attachment, it's always been blocked by demands of duty and honor that neither can break. Jean-Marie, conceived for profit then tormented for decades before being saved by the vampire knight Don Rafael, would rather die than betray the only family he's ever known. Hélène, firestarter and British secret agent, longs to regain a simpler life, while always haunted by an unsettled legacy of family ghosts and eternal evil.
Now Jean-Marie and Hélène face each other over something far stronger than ancient ecstasies: Jean-Marie is determined to kill Hélène's sister, Madame Celeste – the vampire Queen of New Orleans – before she can destroy Jean-Marie's family.
But for Hélène, that means choosing between the love of her life—or murdering her own flesh-and-blood…
Available in print and ebook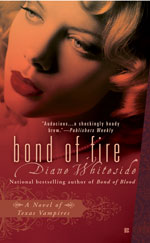 Mass-market edition
ISBN 978-0425224236
Deleted Scenes
Two scenes were deleted because they didn't focus strongly enough on Jean-Marie and Hélène. The prologue shows Jean-Marie during the American Revolution. The conversation between Don Rafael and Donal O'Malley occurs immediately after Jean-Marie becomes a vampiro.
Neither has been edited.
Resources