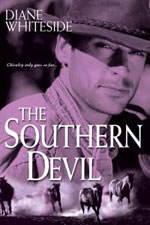 Brava – September 2006
ISBN 0-7582-1210-0
Even a perfect gentleman has a little devil in him.
Once a starving Confederate war veteran, Morgan Evans is now a wealthy man respected for both his business acumen and his chivalrous Southern manners. He would be the perfect catch for any woman, but only one holds his constant attention. Jessamyn Tyler Evans has been his obsession since the time she derailed one of his spy missions by holding him hostage in her bed for days. Her innocent explorations awakened a fierce hunger inside the young Morgan, and the passion and intimacy they shared frightened them both. Jessamyn spurned Morgan for his cousin, and Morgan vowed that someday he would drive her as wild with desire as she had driven him. Now Jessamyn has returned. The payback has begun…
Jessamyn has an obsession of her own: hunting for a legendary family treasure in the hills of Colorado. To do so, the spirited widow needs a husband, and Morgan Evans is only too happy to join her masquerade…for a price: she must submit to being his, body and soul, surrendering herself to whatever he demands. It's a devil's bargain to be sure.
Their union is as treacherous as it is passionate – and the only thing they can trust. Searching for a treasure that may not exist – a treasure others would kill for – two lovers are moving deeper into unmarked territory, where no threat is more perilous than everything they feel…
"Romantic Times makes Morgan Evans one of its coveted KISS (Knight in Shining Silver) heroes!" —4 stars, Scorcher
Available in print and ebook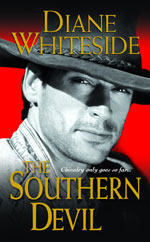 Mass Market Paperback edition
ISBN 978-0-7582-1212-2
The Southern Devil's Bookshelf
By the time I started this book, my bookshelves were quite full of reference books gathered for previous novels about those Devils. Most of the unique research went into understanding horses and horsemanship from the period, especially the unique trials faced when crossing the high reaches of the Colorado Rockies.