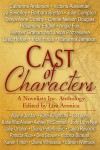 A short story from CAST OF CHARACTERS
ISBN: 978-1-936558-50-6 * eISBN: 978-1-936558-51-3
Fiction Book Studio
Publication: April 3, 2012
Ten years ago, Cindy and her long-time boyfriend had the perfect date at their high school prom. Before the sun rose the next morning, he'd vanished and her family was dead within months.
Now she's come back to West Virginia for the class reunion, planning to bury ghosts.
She's hoping to maintain her manicure and stay atop her new high heels. She doesn't expect to dance with a swordsman – or fight a dragon.
Twenty-eight leading voices in fiction – including eleven New York Times bestselling authors – join together in a celebration of great storytelling.
We love fiction. It's in our blood and it's in our souls. Great stories thrill us and inspire us in a way that nothing else can. If you're like us, then we invite you to revel in this anthology of all-original stories we've created for you.
Contributors include: Catherine Anderson, Victoria Alexander, Jo Beverley, Barbara Bretton, Julie Compton, Tanya Anne Crosby, Carole Nelson Douglas, Rosemary Edghill, Angie Fox, Heather Graham and Jason Pozzessere, Greg Herren, Vicki Hinze, Marianna Jameson, Wayne Jordan, Kate Kingsbury, CJ Lyons, Katie Macalister, Ashley Mcconnell, Jody Lynn Nye, Julie Ortolon, Diana Peterfreund, Laura Resnick, Patricia Rice, Deb Stover, Victoria Strauss, Karen Tintori, Diane Whiteside and Steven Womack.