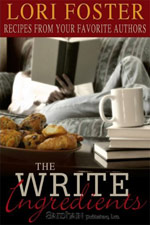 Samhain Publishing
ISBN: 1-599-98653-1
Bestselling author Lori Foster and her online readers' group have maintained a troop project for the past several years. They joined forces with over 90 of your favorite authors to compile a book of tasty treats to raise funds for the continued support of America's Troops.
For more information, visit Lori Foster's website.
Along with Lori Foster and Diane Castell, contributing authors include:
Jim Alexander, Susan Andersen, Liz Andrews, Cynthianna Appel, Becky Barker, Jules Bennett, Lucinda Betts, Toni Blake, Allie Boniface, Denysé Bridger, Gemma Bruce, Jaci Burton, Stella Cameron, Mary Campisi, Tori Carrington, Cindy Carver, Billie Warren Chai, Celine Chatillon, Colleen Collins, Debby Conrad, Jodi Lynn Copeland, Sydney Croft, Cindy Cruciger, Paige Cuccaro, Bianca D'Arc, Gia Dawn, Sylvia Day, Jamie Denton, Danielle Devon, Roseanne Dowell, Christine Feehan, Kate Fellowes, Holly Fitzgerald, Suzanne Forster, Jenny Gardiner, Amber Green, Tilly Greene, Heather Grothaus, Rosey Haggerty, Karen Harper, Ingela F. Hyatt, Larissa Ione, Marcia James, Nicole Jordan, Sylvie Kaye, Susan Kearney, Mia King, Karen Kendall, Susanne Marie Knight, Jayne Ann Krentz, Rosemary Laurey, Kathleen Lawless, Jo Leigh, Toni Leland, Julie Leto, Cathy Liggett, Patricia Lorenz, Larissa Lyons, Allie Mackay, Donna MacMeans, Catherine Mann, Janice Maynard, Cheyenne McCray, Amanda McIntyre, LuAnn McLane, Patrice Michelle, Cindi Myers, Rhonda Nelson, Brenda Novak, Susan Elizabeth Phillips, Michelle M. Pillow, Mary Jo Putney, Anne Rainey, Tonya Ramagos, Joanne Rock, Patricia Sargeant, Melissa Schroeder, Shana Schwer, Jill Shalvis, Jennah Sharpe, Suzanne Simmons, Catherine Spaulding, Michele Stegman, Kay Stockham, Karin Tabke, Jean Marie Ward, Ann M. Warner, Nancy Warren, Carys Weldon, Sue-Ellen Welfonder, Diane Whiteside, Lori Wilde, J.C. Wilder, Brenda Williamson, C. J. Winters, Justine Wittich.