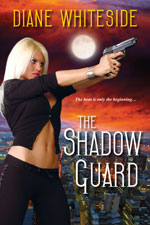 Brava
ISBN-978-0758225191
Jake Hammond glanced back at his messages and shook his head, then sat back down in his excuse for an office and logged onto his computer. One sergeant had always been more than enough to run Belhaven's small homicide squad, given the few murders which occurred in this city. Jake had been on the squad for years before he received the promotion. He knew the job and he knew Belhaven.
Murder cases frequently felt like a messy ball of string. But he'd always known where to find a loose end to pull for clues.
Forty-eight hours into the case–the grace period when he could usually at least guess where to look–every lead had led nowhere. And the public was giving him mountains more stuff to track down every minute.
Citizens were eager to make suggestions and everything had to be checked out. At least the media still thought it was a drowning case; God knows how intense the hysteria would be if the public knew how viciously his mystery lady had been knifed.
So far, nothing had smelled worthy of taking his tackle out for deeper investigation, as his father would have said. All he had was his corpse and an Egyptian mummy would have been chattier.
Hell, he couldn't even make a guess at her name yet.
He cursed under his breath and drained his latte. Dammit, maybe if he looked online he could find a lead.
His cell phone buzzed against his hip, and he ignored it.
He frowned. How many people had the number to his personal cell? His brother Logan and…
The distinctive triple pattern sounded again.
He grabbed his phone and flipped it open.
MESSAGE FROM ANDROMACHE.
A slow smile spread across his face despite everything else demanding his attention. They'd played Argos together on the same server since the game had started six years ago. Now they were members of the same guild. He was a mage, who specialized in blasting bad guys with spectacularly efficient spells, which removed them faster than any court system. She was a very sneaky, barbarian warrior, notable for her boobs, black braids and flying axes according to her online avatar.
He couldn't count the number of quests they'd gone on. He wouldn't have as many points if they didn't game together so often.
HEY THERE, he texted back to her.
HI. GAMING TONIGHT?
SORRY. BIG CASE HERE EATING UP MY TIME.
He kicked back in his chair, certain she wouldn't want to chat about his job any more than he would hers. She'd probably figured out he was a cop, based on his responses to some very illegal suggestions on Argos boards. But she'd never said so specifically and she sure as hell had been interested in any crimes.
THE BELHAVEN KNIFING VICTIM?
A cold wave rippled across Jake's skin, faster than a trout rising for air. The number of people who knew exactly how the mystery lady had died were fewer than he had fingers on his phone's keys.
WHY? he asked and wondered how fast he could subpoena Andromache's cell phone records, if she didn't tell him.
There was a long pause.
An email announced that the Coroner's preliminary report was available for review. Nothing helpful there; that doughty old broad had already phoned him with the results.
Jake started to compose a stronger demand for Andromache.
DO YOU HAVE ANY LEADS TO THE KILLER?
His thumbs hung over the keypad and he gaped at the small screen like a stranded trout. Why the emphasis? Did she know how unusually hard this case was?
A million questions clamored in his head but he couldn't send any of them on an open line. He settled for the simplest.
WHY DO YOU ASK?
Seconds ticked past before an answer came, every letter emblazoned on a yellow flag like a giant warning sign.
I CAN HELP.
WHAT DO YOU MEAN???
Her answer shot back faster than the freight trains barreling into town.
WHERE CAN WE TALK? PRIVATELY.
Jake stood up so abruptly that his keyboard bounced onto the carpeted floor. Heads turned to stare and he glowered their owners back to their own business.
He could take her into an interrogation room but that would be recorded. Years of friendship demanded better treatment, at least until he knew whether she was willing to tell the truth.
He chose every Belhaven cop's favorite hangout.
DUFFY'S TAVERN IN AN HOUR?
SURE. SEE YA THEN.
She disappeared without asking how to find Duffy's. Only the trail of golden balloons and text across his phone's screen confirmed she just might have something helpful to say.
He blew out a breath and shoved his phone back into its holster.
The pile of message slips seemed to sneer at him, spuriously innocent in their demand for his attention.
Dammit, his brain would rather race through a thousand labyrinths in a quest to discover Andromache's secrets. Starting with what the hell she looked like.