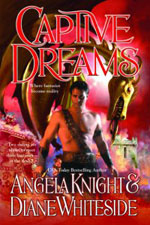 4 and a half Star rating by Romantic Times!
Berkley Trade Paperback –
ISBN: 978-0425-207758
Bound By The Dream – Angela Knight
Bound By The Dragon – Diane Whiteside
Writers Celeste and Corinne Carson have each created an ultra-alpha hero who stars in each sister's highly successful series of novels. Celeste writes of the future and her hero Jarred. Corinne writes of the barbarian Mykhayl. Both heroes are adventurers in their respective times, hot sexy lovers, and, as it turns out…quite real and very angry about everything their creators have forced them to do.
Jarred and Mykhayl are about to exact hot, sweet revenge upon their respective creators; a little payback for the angst and the peril these women have placed them in time after time. Kidnapped and taken to the worlds they write of, Jarred and Mykhayl begin Celeste's and Corinne's punishment…
*Originally published in 2002 as an e-book by Ellora's Cave
"Literary revenge can't get hotter than this entertaining erotica from Diane Whiteside and Angela Knight, two authors well known for their sizzle." –Ginger Curwen, Heart to Heart Reviews, Barnes & Noble

Best Erotic ParaNormal Excellence Award in Romantic Literature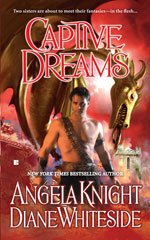 Mass Market Paperback edition
ISBN 978-0425224922