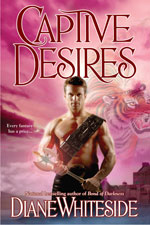 Berkley Trade Paperback –
ISBN: 978-0425229989
The "steamy, scorching and searing hot" (Timeless Tales) fantasies of Diane Whiteside come to life in a new world so vivid, so real, so sensuously alive, you can feel it…
Quiet Danae Livingston has two lives. One is her lifeline: a career as a hardworking member of a top New York dance troupe. The other is her secret passion: fan-fic author, writing scorching tales about the dazzling realm of Torhtremer and Alekhsiy, her favorite hero in that haunting universe. The only time her worlds merge is at GriffinCon, the summer's largest science fiction convention.
There an obsessed fan prowls the crowded convention halls, hunting for the one author who can rewrite Torhtremer's saga to his own twisted liking and have the legendary villain win everything.
But Alekhsiy and Torhtremer are far more real than even she or its greatest devotees could ever imagine. Knowing that danger threatens his home once again from Earth, Alekhsiy comes to GriffinCon to stop it using any means necessary, even if that means destroying the unknown dancer who's saved his life so many times…
Soon fantasy and reality will merge, swords and sorcery will cross, and a sensual world of one woman's vivid imagination will be the most impossible one of all to resist—or escape.
Praise for Captive Dreams
"SENSUAL AND LUXURIOUS… From page one I couldn't stop reading. It sucked me in, tempting me."—Sensual Romance
"HOT AND STEAMY…sure to make your blood pressure rise and your temperature soar."—ParaNormalRomanceReviews