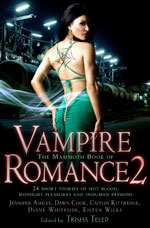 In 1866 Texas, Don Rafael Perez, supreme ruler of all vampires in Texas and Oklahoma, stands between a young woman and the vampire she adores.
Journey back to a time of ballrooms, hard-riding cavalrymen, and desperate lovers in Diane's short story, Crimson Kisses in The Mammoth Book of Vampire Romance 2.
A brief excerpt from Crimson Kisses. . .
"Beloved." Edmund peeled her cloak back, sending another jolt of night-dark agony deeper into her gut. She bit down hard on her lip to stop the answering scream, uncaring this time what she looked like.
"'Fore God, sweeting, how much blood did you lose?" As ever, when he was truly disturbed, Edmund's language escaped to his youth of three centuries ago.
"Too much," she answered honestly. Besides, she'd learned over the past seven years of working with him – first on the Underground Railway, then conveying spies into Virginia – that lies didn't work with somebody who could read her mind.
"I must take you to a chirurgeon. A doctor," he corrected himself.
Up ahead, the hoofbeats had stopped and blended into a single massive drumbeat. Sarah stroked Edmund's cheek, high up on his cheekbones near his steel-blue eyes, but not too close to the serpentine scar carving his face. The sky's darkness was starting to claw at her vision, its edges tinted in crimson.
His features turned to stone under her fingertips before he caught her hand and pressed a kiss into her palm. "Will you trust me to heal you, my heart? With my blood?"
"Always." Her heart melted into the longing in his eyes and she gave him the simplest answer in the world.
He peeled back his glove and folded the empty leather, his breathing as ragged as her own. "Don't watch, sweetheart. This might offend you."
Her eyelids had been drooping, letting her drift into a warm darkness surrounded by his wonderful sandalwood scent. But such specious nonsense made her blink in astonishment.
"Are you worried I'll be offended by your fangs?" she demanded, almost too astonished to keep her voice down.
He shrugged and his chin jutted stubbornly.
"When you've drunk from me so many times before, however lightly? Do you think I haven't looked at least once?" She vehemently shook her head. "I love you, you dolt, no matter how long your teeth are or how bad your scars are – on your face, back, or elsewhere."
"Sarah, my angel." His harsh features softened and took on that glinting smile she loved – until he frowned again. "But are you certain?"
Her senses were swimming in a sea of gray mist. She truly shouldn't have restarted an old argument, not here, not now.
"But if it will help you, I won't watch," she conceded as graciously as possible. If nothing else, closing her eyes might allow her enough concentration to feel better. She laid her head back against his shoulder and tried that strategy.
"God's blood, Sarah, don't you dare die now!"