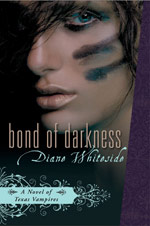 Berkley Trade
ISBN: 978-0425223543
Hailed as "the master of erotic prose" (Booklist), Diane Whiteside has introduced a sensual new take on the legend of vampires. Now she brings us back to Texas for an exhilarating tale of uninhibited danger and desire…
Texas Ranger Stephanie "Steve" Reynolds is on the hunt for a serial killer who is stalking innocent women in the Lone Star State. The beautiful Ranger comes to suspect the unbelievable – that the killer is a vampire.
Steve knows all about vampiros, since she has a demon lover of her own. For the past several years, Ethan Templeton has been helping her on cases when he wasn't sharing her bed. But Steve, craving mortal motherhood, refused to get serious about the handsome vampire. Especially after she saw him kill a man she'd just arrested…
Ethan loves Steve, but he thinks nothing can come of their passion. Even if he could convince her to share his immortal life, his vampire patron, Don Rafael Perez, would execute him for transforming her.
But when the killer menaces Steve, Ethan realizes he has no choice except to risk everything. Will Steve agree to join a man she's called murderer—or will she refuse her one chance at eternal life, lust, and love?
"Bond of Darkness rounds out Diane Whiteside's trilogy of The Texas Vampires…unique vampire culture…dark and hard-edged. Against this backdrop is interwoven a compelling romance…The law enforcement procedural elements of the story are particularly well done…All of the story threads, both romantic and action, converge in a rousing and satisfying conclusion…freshly told and many-layered urban fantasy thriller." – scifiguy.ca

"Whiteside has done a marvelous job creating a world of vampires who blend old world sensibilities with modern day thinking…lush and sensual." – Romance Junkies

"So captivating, I couldn't pull myself away…A definite keeper." – Joyfully Reviewed Recommended Read
Resources