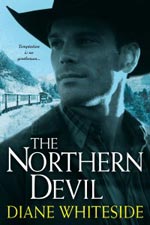 Brava – July 31, 2007
ISBN 978-0758212115
Temptation is no gentleman…
Rachel Davis would rather risk death than remain a prisoner of the ruthless man intent on gaining her inheritance. Trapped on a private train with the villain, she makes a desperate bid for escape and runs into the arms of an unlikely savior. Aristocratic, arrogant, and deeply cynical about love, Lucas Grainger is her last choice for a husband—even a husband of convenience. But desperate times call for desperate measures: taking Lucas to bed and submitting to his tender, hungry desires may be her only hope…
Lucas Grainger has sworn never to take a wife, but he's not about to let anyone else marry Rachel. He has his own reasons for marrying the gentle, quick-witted widow, reasons she need not know. But holding Rachel night after night awakens deeper hungers than he has ever known, and a calculated marriage soon yields to a blissful, blinding—and dangerous—passion. For if Rachel knew who Lucas really was—of the dark secrets that haunt him—she'd never choose him as her protector…
Theirs is a union both erotic and enduring, and any man who tries to part Lucas from the woman he loves will have the devil to pay…
Every woman needs a devil by her side.
The Northern Devil's Bookshelf
By the time I started this book, I had a fairly good set of references for the early 1870's in western North America. But I knew the challenge would be writing about the trains.
Railroad tracks had only been laid from the Atlantic to the Pacific a few years earlier and passenger traffic was hardly standardized. Pullman had only been in business for a few years and private railroad cars were only for the richest of the rich. Railroad cars were made of wood; fragile and flammable, few of them have survived. From a woman's perspective, I was interested in the passenger's experience, in the sheer romance of making one's way across a hostile landscape, while conveyed in a tiny, highly decorated cocoon where you could be risking disease or even starvation.