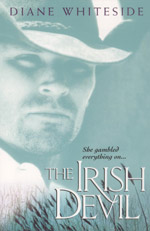 4 Star Rating by Romantic Times!
Brava
ISBN 978-0758207920
She fought for survival…
Born to wealth and privilege but now widowed and betrayed on the unforgiving Arizona frontier, Viola Ross finds herself forced to choose between starvation and marriage to her husband's murderer. Instead she takes a scandalous risk: to turn her back on polite society and become the mistress of sensual William Donovan. Donovan, a wagonmaster and panther of a man, is fully capable of defending her with his bullwhip and Bowie knives. She has no idea what else he can do with those big, callused hands—but she's going to find out…
She was a dream who could destroy him…
Donovan is stunned by Viola's offer since he's always seen her as a fairy princess far beyond the reach of any self-made Irish immigrant. Women like her might enjoy an affair with a man like him—and he's more than proven himself in that capacity—but they always reject his offers of marriage. But how will Viola react when she discovers the darkness of his erotic hungers? And once he's sampled her shy beauty, can he bear to let her go? …
While the killer marshals his forces …
Even as passion flares to life between Donovan and Viola, a killer seethes in rage. He has other plans for her and summons his allies, including the men who once destroyed Donovan's family. For no Irish Devil is going to stand in his way…
"Hot and gritty, seething with passion and the aura of the Wild West, Whiteside's debut presents readers with a solid western as well as a highly erotic romance, and the combination is sizzling." —Romantic Times

"A very interesting story related in prose so steamy that it fogs one's reading glasses as Donovan, a student of the sensual arts, teaches Viola everything he knows, and then some." —Booklist
Available in print or ebook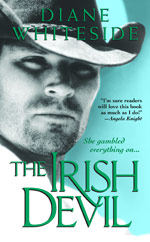 Mass Market Paperback edition
ISBN 978-0758207937
The Irish Devil's Bookshelf
Frankly, I love to do research and I had a lot of fun investigating William and Viola's world. Here's a list of the reference books I used, organized into four different areas: The Wild West, General US History, Ireland, and Victorian Life. Enjoy!
Tombstone's Boot Hill
The mountains in the background are the
Dragoon Mountains, where Cochise is buried.