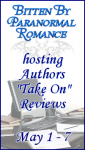 Ever wondered what authors truly think about reviews?
This week, Bitten by Books has invited some of your favorite paranormal authors to come clean and tell the truth. Today's my day to "take on" reviews.
Please drop by if you'd like to find out how this former reviewer feels about being on the receiving end of reviews. Or if you'd like to shoot her some questions of your own!
2:28 am |
Comments are off