Hello again!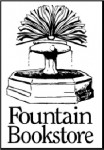 I'm signing THE SHADOW GUARD today from 12:30-2:30 at Fountain Bookstore in Richmond, Virginia – one of the most delightful bookstores anywhere.
There will be chocolate for all, plus presents for early arrivals.
Please stop by and get in on the loot! Uh, that is delightful conversation and great books!
2:49 am