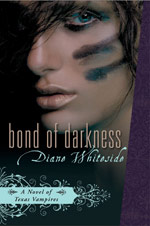 Hi there!
Linda Williams and I are chatting together about ethics in our SF/F worlds. It's a three part interview and we're especially focused on how morals are different for these characters, than they would be in the every day world. I'm talking about my Texas vampires. (Go, Don Rafael!)
We're chatting today – February 22nd – and again on February 29th and March 6th.
Please stop by and join the dialogue. We already had fun, scratching our heads to answer the questions.
5:19 am