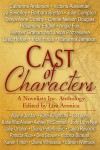 Hi there! I'm thrilled to announce that I have a new story coming out today: "Vanished" in CAST OF CHARACTERS.
Ten years ago, Cindy and her long-time boyfriend had the perfect date at their high school prom. Before the sun rose the next morning, he'd vanished and her family was dead within months.
Now she's come back to West Virginia for the class reunion, planning to bury ghosts.
She's hoping to maintain her manicure and stay atop her new high heels. She doesn't expect to dance with a swordsman – or fight a dragon.
For more information, please visit Vanished's page.
3:54 am